Netflix Announced Two days of Free Subscription in India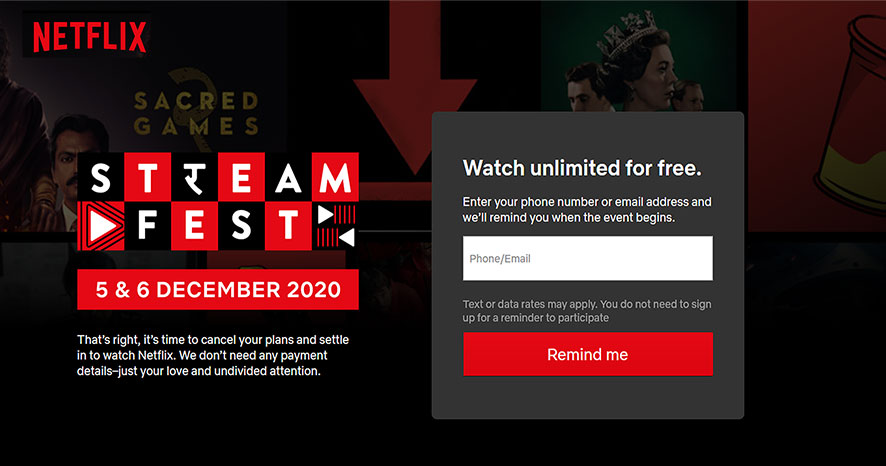 The offset of COVID-19 around the world has changed the way of living entirely. From partying through video call applications to work from home, nothing is the same as before. This change that COVID-19 has brought to our lives has left us with a lot of time and a vacuum in our lives. All this time has forced us to find different hobbies and sources of entertainment as going out is no longer an option. This is where online streaming services have become an important part of our lives.
One of the most popular streaming services, Netflix recently announced that it would provide two days of free streaming services in India. This comes as exciting news for people as they can now watch any show or series without having to buy any subscription. In October, the company announced a Streamfest that will allow all its users to stream 48 hours of Netflix at zero cost.
This Streamfest is going live in India on 5th December and will be valid till 6th December. Now, the Netflix StreamFest India dates have been revealed and a signup page has gone live for users to get reminded of the event. All that a user has to do is input their name, and email address, and create a new password to avail of this interesting offer. There are no restrictions, and everyone can watch any show, movie, or documentary. Also, you don't even need to put in your credit card details.
Netflix COO Greg Peters when talking about Streamfest said during a conference call," An idea we're excited about — and we'll see how it goes, we think that giving everyone in the country access to Netflix for free for a weekend could be a great way to expose a bunch of new people to the amazing stories that we have. Really creating an event, and hopefully, get a bunch of those folks to sign up."
Users signing up for the Streamfest can browse the content on the Netflix streaming app on their gaming console, TV, iOS, PC, and Android devices. However, the streaming quality is limited to Standard Definition (SD). Earlier this year, Netflix policies changed, and they stopped providing a 30-day free trial for the users in India. Following the update, they also applied the same changes to all other markets. To attract more users, earlier this year, Netflix also announced a low-cost mobile streaming plan which costs Rs 199. This plan enabled the users to watch Netflix on their mobile devices by only paying Rs 199 for a month. They are also working on several other budget plans to cater to a variety of their customer base.
These plans include several plans such as weekly plans, cheap-entry level plans, discount long-term subscription plans, and free content access for their members for a limited time.
"We have been working hard to try and make our offering in India more competitive, more attractive to members and members-to-be, and there's a bunch of different product features we've been doing, partnerships and payments integrations," Netflix COO Peters had told analysts about its plans in India.
Netflix is arguably the most used online streaming service in the country as compared to its rivals like Amazon Prime Video, Disney+Hotstar, Essel Group's Zee5, and SonyLiv. The company has commissioned more than 65 production houses in the country, making it the largest investment in the streaming industry.
Netflix itself is coming with new exciting TV shows and movies under its banner, which are only available on the platform. This free 48-hour Streamfest will give the users a chance to view these original shows for free and explore a whole different world of entertainment.