Amer Safaee's Journey to the World of Fashion through VOCE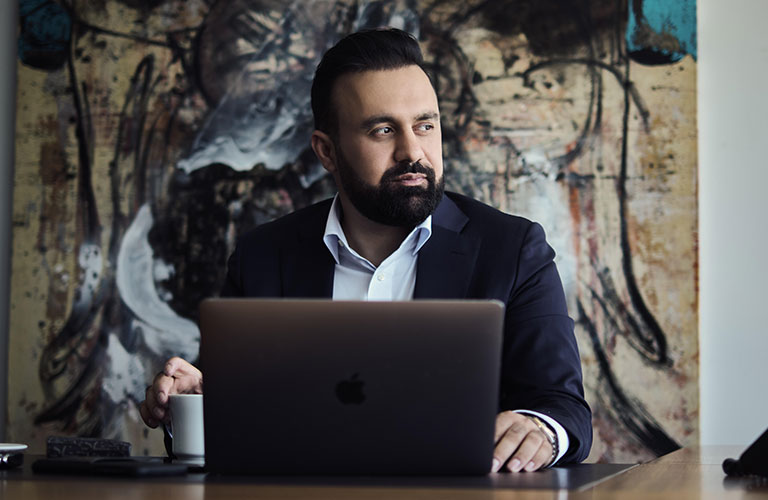 Amer Safaee was born in 1980 in Daykundi, Afghanistan, to a low-income family. His life wasn't always easy, and he went through various rough patches. But by his sheer determination and hard work, he completed his bachelor in IT from a reputed university. He was always inclined to create something of his own. Amer started his first business venture by opening up an IT company named Bama Security Operations in Afghanistan. He successfully expanded his business to 10 more countries like Tajikistan, Turkey, UK, UAE, Germany, and so on.
To develop his business more, Amer completed his MBA and opened up a new business venture in the Beauty sector. He opened up a company by the name ZAZZ that currently operates in five different nations.
Amer has to move around different countries due to his work, but he primarily lives in Dubai, London, and Istanbul. He is a single guy with a variety of hobbies such as horse riding. His victorious life comes with luxury pleasures such as cars and products from top tier brands such as LV and Dior.
Amer Safaee was always enthusiastic about fashion and wanted to make a long-lasting impact on the industry. His deep-rooted interest in fashion was the motivation behind opening ZAZZ, and he does not plan to stop any time soon. A new Fashion Model Management Agency called VOCE is Amer's latest venture in the fashion industry.
Voce Model Management is a relatively new but extremely successful fashion model management agency started by Amer Safaee himself. Despite being a newcomer, it has made its mark in Turkey and London already. The inspiration behind VOCE is to inspire beautiful models and to help them create a successful modeling career.
The company's agenda is to provide a safe working space for all models to reach their full potential. VOCE wants to help the models achieve their dreams by training them with its professional management service. The company makes sure that a healthy relationship between the agency, models, and clients is in place.
VOCE Model Management believes in indiscriminate beauty. The company supports and encourages every skin color, race, and body type to be equally elegant and beautiful. They work as a team to create the best version of a person by nurturing them and bringing them to the limelight.
VOCE has already made its name in Turkey and London and is ready to take on Milan and Paris next year. Amer's fearless attitude has made every business venture successful, and VOCE is also sure to come out ahead of its competition.
He always believed in overcoming failures by sheer willpower and determination. He also mentioned in an interview that, "Twice in my life, I had lost almost everything. I did feel sad but only for a brief period of time and after that, knew I had to face this situation with courage and my head held high. When things were extremely turbulent in the Middle East market, I did not lose hope but tried hard to come up with solutions and strategies to overcome the difficult times."
Amer's target is to expand his business across 50 nations in the next five years, and if his previous successes are any indication, it might happen sooner. To know more about Amer Safaee, follow him on Instagram or through his website.