Vinayak Garg unites the Gardening Community through LazyGardener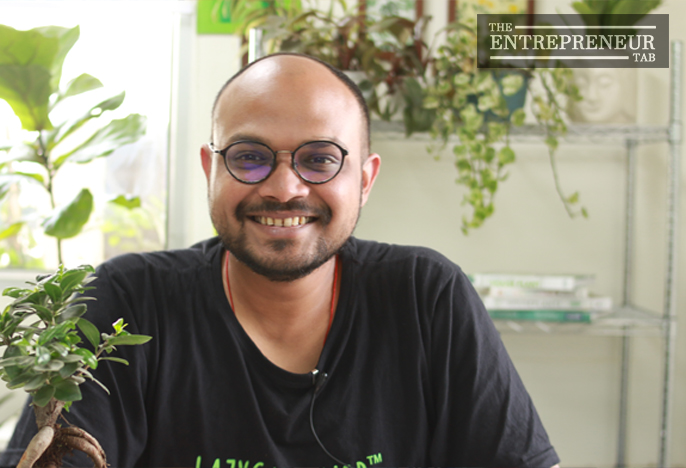 Gardening is like food for the soul. Not only does it help you to contribute to the environment but, it also helps to heal the person who is gardening from within. Some experts even recommend gardening as a mental exercise to clear your mind and focus on the task. Staying around fresh oxygen will also relax your body and soul.
Vinayak Garg, the Founder of LazyGardener, understands the importance of gardening and to encourage people he has created an active community for gardeners all over the country.
Vinayak started LazyGardener to provide unique, innovative, and easy gardening solutions to all the urban gardeners countrywide. He is an alumnus of IIT Delhi and was chosen as one of the 12 fellows under the Gurukul Program (2008), run by H.H. Dalai Lama's foundation. He then spent two months in the monastery and learned how to become one with his inner self. This program started Vinayak's journey into mindfulness, meditation and nudged him to explore spirituality.
Vinayak Garg was born into a family of avid gardeners, which prompted him to start this passion project. As a kid, he was intrigued by gardening and spent countless hours gardening beside her mother and sister. Some time ago while talking with her sister, he realized that how people have become so busy that they do not enjoy this practice anymore. With his parents aging and being caught in the daily loop of life, he could not take care of his gardens. He realized that all the plants bloomed better with proper care and attention.
This thought was stuck in Vinayak's mind for a long time. He realized not only his parents, but most people cannot take care of the plants at their home for several reasons. After a hefty discussion with his friends, Vinayak realized that good care of any plant requires three vital things, Sunlight, Nutrition, and Water. They make a lot of difference in any plant's growth. Most people can provide two of these while missing out on the third, which leads to poor and incomplete growth of the plants. So to provide an easy solution to gardeners and create awareness, Vinayak established LazyGardener.
LazyGardener launched its first product, Plant Food Sticks, in June 2019, after experimenting for two years. It is an innovative, technical approach to feed plants with correct nutrition with the help of natural minerals. This stick contains all the essential nutrients for complete growth, which reduces the manual effort to a minimum. This stick can automatically feed a plant for two months, which helps both amateur and professional gardeners save a lot of time.
The latest step for the company is to create an online community for all urban and home gardeners. Within four months, LazyGardener's social media community has grown to over 250k and is only increasing by the minute. They share several plant-related tips, suggestions, and tricks on their channel to encourage the community to grow more home-products.
The company has already established their presence in India and are now targeting at least six more countries to grow their community to 1 Million by 2022. They have more than ten new innovative products in the making that are sure to revolutionize the gardening industry. Vinayak wants to make 'LazyGardener a one-stop community for everything gardening,' and looking at their growth curve, we are sure it is going to happen sooner than later.
If you are also a gardening enthusiast or want to try your hands at it with the possibility of experiencing therapy, you should go through his website. For more tips and to discuss anything related to gardening, you can connect with him on Instagram.